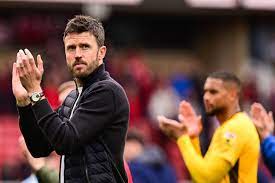 Former Manchester United star Michael Carrick is aiming to cap his remarkable first season as a manager by leading Middlesbrough into the Premier League.
Reaching the play-offs as a managerial novice is an impressive achievement for the understated Carrick, who retired as a player in 2018 and worked as Manchester United's assistant manager before accepting the Middlesbrough job in October.
But the 41-year-old has made such a positive impact during his seven months at the Riverside Stadium that former United manager Ole Gunnar Solskjaer believes he is certain to manage the Old Trafford club in the future.
"Michael is a proper human being, a proper man who you want to be successful," Solskjaer told The Athletic. "I am 100 percent sure that Michael will be the manager of Manchester United if he wants to be."
Middlesbrough chairman Steve Gibson described Carrick as the "perfect fit" for a club in desperate need of rejuvenation after a disappointing period since their relegation from the Premier League in 2017.
Gibson's belief in the untested Carrick might have been fuelled by memories of another occasion when he hired a former United midfielder to breath new life into his team.
Middlesbrough were promoted to the Premier League in Robson's first season, with unglamourous Teesside suddenly becoming a desirable destination for stars such as Juninho and Fabrizio Ravanelli.
Carrick is on course to emulate Robson's success after Middlesbrough climbed away from the relegation zone and surged to a fourth-place finish in the Championship.
The former midfielder, who won 12 major trophies at United, including the Premier League and Champions League, had immediate respect from the Middlesbrough squad.